The following was sent on 3rd of April
May we take this opportunity to thank you for your support over the last 3 weeks. Our first letter spoke about entering uncharted waters. We have navigated the course with you all and while it has been an enriching experience for many of our teachers and students, we certainly hope to return to dry land after Easter!
Exam Students:
There is no official update on State Examinations. Please keep an eye on reputable media sources over the coming weeks. We will be in touch after Easter with any updates we receive over that time. It is of vital importance that Exam students continue to work toward final exams. All indications, at the moment, are that they will go ahead. For Exam students the next two weeks should be about personal revision plans and consolidation. Using study skills and past papers is a great starting point for anyone who doesn't know where to begin.
Well being
A reminder about the PE and Wellbeing classes that have been set up on Google Classroom. It might be useful to revisit them over the Easter break.
Our website also has some useful wellbeing resources for parents and students https://www.cmco.ie/wellbeing-during-covid19/
We also have a nice section which you can refer anyone who is cocooning to – https://www.cmco.ie/cocooning-webpage/
Remote learning
As it will be Easter, over the next two weeks, teachers will not be putting resources on Google Classroom. However, if your child wishes to continue their studies the classrooms, with all resources uploaded so far, will still be there. There are also links on https://www.cmco.ie/educational-resources-march-20/ if any student wants to extend their learning. We urge students to take a break and time for their wellbeing in the next few weeks.
Thank you again,  for your support in these last few weeks. We are very much hoping to resume normal business after the break!
Mr Quinn has sent an assembly that will distributed to all year groups by year heads.
The following was sent on the 27th of March
As the second week of remote learning draws to a close we wanted to keep you updated on the situation as we currently know it.
Information from the Department of Education
Schools will remain closed until the 19th of April. That means there will be one more week of online tuition, followed by 2 weeks of Easter holiday.
There has been no further update, from last week, on the state examinations.
During the week a joint statement was issued from all the school managing bodies urging parents to ensure that students keep social distance.
Student Wellbeing
This week google classrooms in PE and Wellbeing were set up. The code for the Wellbeing class is m2gesxk and the code for the PE class is vvn3rna please encourage your child to participate on both of these classes.
Please use the school email address colaistemhuire@tipperaryetb.ie if you wish to contact your child's year head or the HSCL about any concern you may have. Mark it for their attention and Una will forward it to the relevant year head.
Classwork
We are very impressed by the overall level of engagement and work being produced by our students. We know many parents are heavily involved in this and we thank you for your support.
Arising from last week's letter we got some very good suggestions on technical support students needed. We have added some video tutorials to the website which can be found in our new section https://www.cmco.ie/remote-learning/
Can you please encourage your child to write down what they need to do in their diaries so that they can keep on top of the workload and it feels more like the normal homework routine. 
Finally, I would like to thank the parents who have been in touch to thank us for the support and teaching that continues to go on through google classroom. We had a virtual staff meeting during the week and while this new online world is a major learning curve and adjustment for our teachers, knowing that parents  are supportive of their efforts was much appreciated. We also spoke to all teachers during the week and their overriding comment was how much they miss your children and how they hope they are well. So please tell them we miss them and hope to see them in person soon. 
We hope you and your families are well
The following was posted on 24th of March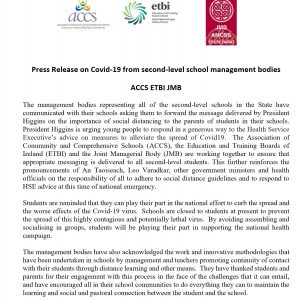 The following was an update sent on Thursday 27th of March
As our first week of supporting your child remotely draws to a close, we wanted to be in touch.
As you know the government has declared that all schools will remain closed until the 30th of March. We continue to work towards this date until any further updates. Note information released today, on state exams at http://bit.ly/3a4IAv5
To support your children the following has been happening
Teachers are using google classroom to distribute work, put up notes and get assignments
Some teachers may link to videos or create videos and ask students to complete work based on that
Some teachers may ask students to create their own content
Some teachers have held/will hold "face to face" class with Google Hangouts
Note: if using Google Hangouts  with their teachers; students should turn off the speaker and the video so that they can see what the teacher is doing while maintaining their privacy, but they can turn on the mic again if they have a question.  We are aware that some students have very poor internet and so the notes are also being put up online in this scenario.
Please ensure that your child is aware of the Acceptable Use Policy (on www.cmco.ie). It is important that students show respect for teachers and each other while using the online platform.
This is a learning curve for students and teachers. While Google Classroom is fully embedded in the school, we have never had a situation where it is our sole means of teaching.
Further to our recent session on internet safety with parents we ask all parents to familiarise themselves with this important topic – further information is available at https://www.webwise.ie/parents/. We will share any information regarding free resources on our school webpage at https://www.cmco.ie/educational-resources-march-20/. These will provide an enriching experience in most subject areas.
Finally, if you have any query (no matter how small you might think it is) please use the following form to communicate with us. http://bit.ly/CMCO2Parent1903
The following is an update on the 12th of March
Further to our letter yesterday, we can now confirm that school will be closed from 6pm this evening until 29 March 2020. We are undoubtedly in un-chartered waters.
Teachers have distributed work today and will continue to use google classroom in the coming weeks. Students will be expected to engage in self-directed learning for the most part.  All exam students should use their exam papers. Students can use  study-clix (code given to students ) and need to check in with Google classroom regularly.
We are awaiting instructions for contingency plans in relation to orals and practicals. A google classroom has been set up for communication purposes with 6th and 3rd years by their year heads. If your child did not get the code please ask them to contact someone else in their class for the code or to email their year heads.
We remind you again that students must bring all their books, copies and equipment home. The school building will not be open during the closure.
We wish everyone well and hope that all our students and their families will be safe and healthy in the coming weeks. Continue to follow HSE guidelines – stay well.
The following was added to the website on 11th of March
Information below has been texted to parents and sent in a letter via text.
We had a whole school assembly in the week of the  9th of March to allay fears around COVID-19 for our students. In line with the advice sheet from the HSE we reiterated that
Handwashing with soap and warm water for 20 seconds, regularly is required
Coughing/Sneezing into elbow or tissue that is disposed of in a bin is important
Students should avoid touching their nose, eyes and mouth
If students are sick they should stay at home
If students are concerned they should discuss these worries with their parents, tutor, year head or any member of the student support team.
Avoid all large social gatherings
The Chief Medical Officer, has said that school should not close. However, should this happen it is important that we are ready to deal with closure.
With this in mind students have been told the following:
Make sure you can log into your school gmail account – see Miss Bergin or Miss Purtill  TODAY if you need your password reset
The code for study clix has been shared with parents and students
Students have been told that they  must bring all their books home every night – if the school closes, as we will not have access to the building
Parents please make sure your contact details are Up-To-Date on the school system.
Please advise us if you are travelling out of the country as a family.
The following links are useful
Link to Department of Education advice on Covid-19