The following Letter was sent on 29/05/2020
 Dear Parents
We hope this letter finds everyone well. As we come to end of the school year, we wanted to take this opportunity to thank you and your children for your hard work and support all year and especially since March.
We acknowledge that it was a challenging time. At the recent Board of Management meeting, our Chairperson, Micheál Lowry, spoke on how the school community were navigating these unchartered waters through partnership. We are grateful to you, our parents. Thank you for filling in the parent survey. We deliberately left it anonymous and so we are now unable to thank you personally for your kind comments or speak to you individually. Your feedback will inform our planning for the new academic year.
We  had some lovely virtual events over the last few weeks. The opening of the Virtual Art Gallery and the Padre Pio Choir recital is still to come. We will let you know the dates during June.
We said farewell to our Class of 2020 at an emotional virtual ceremony yesterday. We wish them well in their next journey and remind them that our door is always open!
We wish all our students a safe and happy summer. Mind yourselves. Again, we miss you and we can't wait to see you.
Take care and thank you again
Denis Quinn`                                                                  Clare Wallace
Principal                                                                           Deputy Principal
House Keeping
The following was sent on the 15th of May, 2020
Dear Parents
We hope this letter finds you well. We cannot say too often or loudly enough how much we miss your children. Coláiste Mhuire is only a building, it is your children that make our school. We are so grateful for all the positive interactions over the last few weeks. 
We had a Board meeting yesterday and Micheál, Board of Management Chairperson and Frank, Chairperson of the parents association conveyed a note of thanks from the Board of Management and Parents Association to teachers and parents for the hard work all parties have put into the Remote Learning Experience. He highlighted the difficulties and challenges we have all encountered but stressed that the exceptional job parents and teachers are doing, through partnership, has helped everyone in this difficult situation.  
We are awaiting further guidance on how to proceed with leaving cert grades. We have sent a letter regarding this to leaving cert parents. We were delighted to meet the 6th years in a virtual assembly this week and look forward to having another event with them soon. 
As you know assessments begin next week and to alleviate pressure we are requesting that teachers do not add any new material to Google Classroom from today. We wish students well and again, if a student is experiencing difficulty please let year heads know and contingency plans will be put in place. 
A few dates/activities for your diary
Stay safe and well. Looking forward to "seeing" you next Thursday night in the new virtual world
The attached was sent to 6th year parents on the 12th of May, 2020
The following was sent on the 1st of May, 2020
Dear Parents
We hope this letter finds you and your family safe and well in these uncertain times. We are now at the halfway point in our remote learning experience for 2020. We hope this letter finds you all well and you feel supported by us as a school. Can I remind you once again that if you need to make contact please send an email to colaistemhuire@tipperaryetb.ie and mark it to the attention of your child's year head. Thank you to parents who have commended the teachers and Year Heads on their work. We appreciate the positive feedback and have passed it on to them. 
Engagement Reports
We have sent a separate letter explaining this. This report is supplied for information purposes only in order to provide you with an opportunity to decide on the appropriate level of engagement for your Child. 
Important Information for 3rd year Parents
The department has announced that the Junior Cycle assessments will take place before the end of the term in school. The State Examinations commission will refund you the fees paid for Junior Cycle State Exams directly. We are currently preparing a comprehensive plan around assessment and full details of this will be at https://www.cmco.ie/remote-learning-assessment/. Your child will receive a report through compass in June from us which reflects this agreed assessment. If you have any further queries see https://www.education.ie/en/Learners/Information/State-Examinations/
End of Year Assessment
We are working with staff to come up with a comprehensive plan around assessment for all year groups (except for 6th year) 
Links will be posted to https://www.cmco.ie/remote-learning-assessment/ with full detail of assessment as soon as we can. 
Student Support
Can we remind you again that students can reach out to Miss Hickey or Miss Byrne for support through the Guidance google classroom m2gesxk Is the code. Miss Purtill, Mr Stapelton and Miss Morgan have also been doing trojan work in this area. 
Extra Curricular
Thank you to Mr Byrne who has been leading an exercise class, and as part of Active week has encouraged students to share their videos with the school community. It is great to see students engaging so well and keeping up with this important part of the ENERGY programme. 
We had lovely poetry recitations and sharing of favourite poems yesterday for Poetry Ireland Day and  over 70 members of the school community shared their Drop everything and Read photos last Friday. Special thanks to Miss Dunphy and Miss Butler for these initiatives. This is all so appreciated as it keeps us all connected. 
Congratulations to the Home Economics students who participated in an All Ireland online Home Economics challenge over the last few weeks. This was organised by the Association of Teachers of Home Economics. It was called 'Home Ec at Home.' Students were asked to send in images of how they were using Home Ec in their own lives now that they could not use it at school. We are so proud of Enda Wickham (1st year) who was the overall winner of a €100 voucher. He had strong internal and external competition. Enda cooked a three course dinner for his family.
Mr Fanning reports brilliant engagement with his Engineering challenges (a little bird tells me that Easter eggs were involved!).  It has been great to see the practical science photos coming back also. 
Miss Hynes and Miss Ryan have been running an online book club for Junior School students and they tell me it is thriving. 
It has been great to hear that some of the RE teachers are continuing the 3 Good Things and the breathing parts of the ENERGY programme, weekly and we are pleased to note the engagement in the Google Classroom Wellbeing class.
First year Options
Thank you to parents who have been engaging with us regarding subject options. The majority of students got their choices (which is always good) and those who did not will be contacted directly by Miss Hickey to discuss the same. 
New First Years
We have created an online platform to support our new first years in their transition. If you have a child in the school already and have a child coming into first year we would be very interested in hearing your feedback on this. 
Uniform
Helen from Imps and Elves will make appointments for uniform fittings and orders at 086-8886668
Keep safe and well. 
Denis Quinn                           Clare Wallace
Principal                                  Deputy Principal 
The following was sent on 20th of April, 2020
Dear Parents/Guardians
We hope that you and your family had a good Easter and are keeping safe and well. The  good weather was a bonus and brought us all a bit of sunshine! We all remain in a state of uncertainty as to how this ongoing health crisis will impact on our futures and I hope that each family is finding their own positive ways to manage at this time.
In this new reality, we will be continuing with Distance Learning for the foreseeable future. We all acknowledge that it is not an ideal situation for anyone, and we know that our students and teachers are missing the daily interactions with each other.
Update from The Minister of Education
The Leaving Cert exams are scheduled to start in late July and to be completed throughout the month of August. The Minister has also proposed that schools will reopen for 6th Years, including LCA6 students, in the weeks leading up to the exams. The amended timetable for these exams will be issued in June.
Junior Cycle exams will take place, in some format, at the start of the new school year.
Therefore, all students are expected to remain fully engaged with their schoolwork as set by their teachers each week. We encourage all of our students  to remain focused on their studies at this time and to minimise their engagement with speculation and conjecture on social media as this will only add to their existing stress levels. Students should also ensure that they are taking appropriate breaks from their studies and that they are engaging with friends and family where possible.
ETBI (our patron body) has issued the following guidance which we think is worth sharing: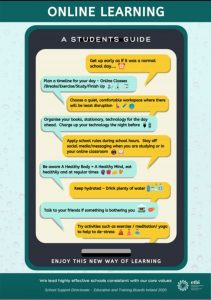 This last term of 6th  year, while it is the business end of the school year, is usually one that is very enjoyable for the students and we are aware that they are missing out on the social side of that experience at the moment. Traditionally, we have had a sixth year outing and a Graduation Ceremony in late May. Once this national crisis has passed, we look forward to organising an event for the current 6th Year students and their families to acknowledge their time in the CMCO
Remember – the purpose of the nationwide school closures and the increased restrictions are to help prevent the further spread of the Covid-19 illness. It is important that parents/guardians continue to minimise and monitor their children's movements in the coming weeks and follow all advice given. Students should remain at home and not socialise with others.
Please note that the school office remains closed at this time, but any relevant information will be forwarded to parents either by text message or via our social media platforms and will be uploaded to the remote learn section on our website www.cmco.ie
Queries to: colaistemhuire@tipperaryetb.ie
Useful info, tips, videos etc, for parents and students, log onto www. cmco.ie – RemoteLearn Section
Yours sincerely
Denis Quinn, Clare Wallace & Mid Mgt Team
The following was sent on 3rd of April
May we take this opportunity to thank you for your support over the last 3 weeks. Our first letter spoke about entering uncharted waters. We have navigated the course with you all and while it has been an enriching experience for many of our teachers and students, we certainly hope to return to dry land after Easter!
Exam Students:
There is no official update on State Examinations. Please keep an eye on reputable media sources over the coming weeks. We will be in touch after Easter with any updates we receive over that time. It is of vital importance that Exam students continue to work toward final exams. All indications, at the moment, are that they will go ahead. For Exam students the next two weeks should be about personal revision plans and consolidation. Using study skills and past papers is a great starting point for anyone who doesn't know where to begin.
Well being
A reminder about the PE and Wellbeing classes that have been set up on Google Classroom. It might be useful to revisit them over the Easter break.
Our website also has some useful wellbeing resources for parents and students https://www.cmco.ie/wellbeing-during-covid19/
We also have a nice section which you can refer anyone who is cocooning to – https://www.cmco.ie/cocooning-webpage/
Remote learning
As it will be Easter, over the next two weeks, teachers will not be putting resources on Google Classroom. However, if your child wishes to continue their studies the classrooms, with all resources uploaded so far, will still be there. There are also links on https://www.cmco.ie/educational-resources-march-20/ if any student wants to extend their learning. We urge students to take a break and time for their wellbeing in the next few weeks.
Thank you again,  for your support in these last few weeks. We are very much hoping to resume normal business after the break!
Mr Quinn has sent an assembly that will distributed to all year groups by year heads.
The following was sent on the 27th of March
As the second week of remote learning draws to a close we wanted to keep you updated on the situation as we currently know it.
Information from the Department of Education
Schools will remain closed until the 19th of April. That means there will be one more week of online tuition, followed by 2 weeks of Easter holiday.
There has been no further update, from last week, on the state examinations.
During the week a joint statement was issued from all the school managing bodies urging parents to ensure that students keep social distance.
Student Wellbeing
This week google classrooms in PE and Wellbeing were set up. The code for the Wellbeing class is m2gesxk and the code for the PE class is vvn3rna please encourage your child to participate on both of these classes.
Please use the school email address colaistemhuire@tipperaryetb.ie if you wish to contact your child's year head or the HSCL about any concern you may have. Mark it for their attention and Una will forward it to the relevant year head.
Classwork
We are very impressed by the overall level of engagement and work being produced by our students. We know many parents are heavily involved in this and we thank you for your support.
Arising from last week's letter we got some very good suggestions on technical support students needed. We have added some video tutorials to the website which can be found in our new section https://www.cmco.ie/remote-learning/
Can you please encourage your child to write down what they need to do in their diaries so that they can keep on top of the workload and it feels more like the normal homework routine. 
Finally, I would like to thank the parents who have been in touch to thank us for the support and teaching that continues to go on through google classroom. We had a virtual staff meeting during the week and while this new online world is a major learning curve and adjustment for our teachers, knowing that parents  are supportive of their efforts was much appreciated. We also spoke to all teachers during the week and their overriding comment was how much they miss your children and how they hope they are well. So please tell them we miss them and hope to see them in person soon. 
We hope you and your families are well
The following was posted on 24th of March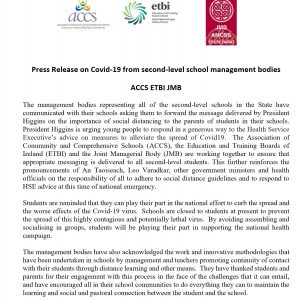 The following was an update sent on Thursday 27th of March
As our first week of supporting your child remotely draws to a close, we wanted to be in touch.
As you know the government has declared that all schools will remain closed until the 30th of March. We continue to work towards this date until any further updates. Note information released today, on state exams at http://bit.ly/3a4IAv5
To support your children the following has been happening
Teachers are using google classroom to distribute work, put up notes and get assignments
Some teachers may link to videos or create videos and ask students to complete work based on that
Some teachers may ask students to create their own content
Some teachers have held/will hold "face to face" class with Google Hangouts
Note: if using Google Hangouts  with their teachers; students should turn off the speaker and the video so that they can see what the teacher is doing while maintaining their privacy, but they can turn on the mic again if they have a question.  We are aware that some students have very poor internet and so the notes are also being put up online in this scenario.
Please ensure that your child is aware of the Acceptable Use Policy (on www.cmco.ie). It is important that students show respect for teachers and each other while using the online platform.
This is a learning curve for students and teachers. While Google Classroom is fully embedded in the school, we have never had a situation where it is our sole means of teaching.
Further to our recent session on internet safety with parents we ask all parents to familiarise themselves with this important topic – further information is available at https://www.webwise.ie/parents/. We will share any information regarding free resources on our school webpage at https://www.cmco.ie/educational-resources-march-20/. These will provide an enriching experience in most subject areas.
Finally, if you have any query (no matter how small you might think it is) please use the following form to communicate with us. http://bit.ly/CMCO2Parent1903
The following is an update on the 12th of March
Further to our letter yesterday, we can now confirm that school will be closed from 6pm this evening until 29 March 2020. We are undoubtedly in un-chartered waters.
Teachers have distributed work today and will continue to use google classroom in the coming weeks. Students will be expected to engage in self-directed learning for the most part.  All exam students should use their exam papers. Students can use  study-clix (code given to students ) and need to check in with Google classroom regularly.
We are awaiting instructions for contingency plans in relation to orals and practicals. A google classroom has been set up for communication purposes with 6th and 3rd years by their year heads. If your child did not get the code please ask them to contact someone else in their class for the code or to email their year heads.
We remind you again that students must bring all their books, copies and equipment home. The school building will not be open during the closure.
We wish everyone well and hope that all our students and their families will be safe and healthy in the coming weeks. Continue to follow HSE guidelines – stay well.
The following was added to the website on 11th of March
Information below has been texted to parents and sent in a letter via text.
We had a whole school assembly in the week of the  9th of March to allay fears around COVID-19 for our students. In line with the advice sheet from the HSE we reiterated that
Handwashing with soap and warm water for 20 seconds, regularly is required
Coughing/Sneezing into elbow or tissue that is disposed of in a bin is important
Students should avoid touching their nose, eyes and mouth
If students are sick they should stay at home
If students are concerned they should discuss these worries with their parents, tutor, year head or any member of the student support team.
Avoid all large social gatherings
The Chief Medical Officer, has said that school should not close. However, should this happen it is important that we are ready to deal with closure.
With this in mind students have been told the following:
Make sure you can log into your school gmail account – see Miss Bergin or Miss Purtill  TODAY if you need your password reset
The code for study clix has been shared with parents and students
Students have been told that they  must bring all their books home every night – if the school closes, as we will not have access to the building
Parents please make sure your contact details are Up-To-Date on the school system.
Please advise us if you are travelling out of the country as a family.
The following links are useful
Link to Department of Education advice on Covid-19